Fort Myers'
Top New Construction Metal Roofing Contractors
If you have a design in mind for your roof, mind sharing it with us? We are almost sure that we can have a better option for you. Depending on the construction you are leading and handling right now, you have several options available that can meet your expectations. However, many people do not consider metal roofs as one and completely forget or ignore that this roofing system can offer everything for less.
Now, if you are here that means you sort of know what it is all about. The fact that you are probably missing some relevant information about this roofing system is what mostly took you here. That being said, what do you think is so good about metal roofs?
Our company Florida Metal Roofers of Fort Myers specializes in every service and project around metal roofs, but this is not the only reason why we would recommend it and insist on an answer to the previous question. No idea yet? Well, metal roofs provide durability and longevity among their benefits and they are everything when it comes to both of them. Compared to other roofs they can last for over 60 years and some even report that a zinc roof can last for 100 and continues.
Zinc is one of the 4 materials available for metal roofs alongside aluminum, steel, and copper. According to the material you choose you to have more designs, styles, options, and benefits. Most people choose the material based on the climate of the city. Since we are located in Florida—you and us—, the weather is the same for almost every city in the state.
In the case of most cities, any type of metal roof is allowed but if you live in places such as Fort Myers Beach, you might want to go for aluminum. The aluminum in particular is resistant to salt-water corrosion and helps you to guarantee more years of functionality and design. If you still prefer another option, none of the other materials will deteriorate easily with the corrosion. It is a matter of 'which one can stand it more?'.
Now that we made this clear, let's jump to the real topic: are you planning to install a metal roof in the new construction after what we said? Or maybe you were already considering it. Whatever it is, we encourage your decision since you will be able to save money, time, and obtain many benefits in the long-term. Such as not having to perform maintenance periodically nor expecting severe damage and even simple repairs to take place. The good part about going for a metal roof is that you can plan the installation without worrying about debris or dirt in general. Besides, installing it is quite easy compared to other roofing systems and if you are trying to have another layer of the roof that is probably more solid, you can use it as the base.
A metal roof can be installed over an existing roof, either if it is old or recent. Of course, before doing so, you will need to assess the existing roof but in the case of new constructions, this is not necessary since all the process takes place during the installation. It is a roofing system and then, another one after all.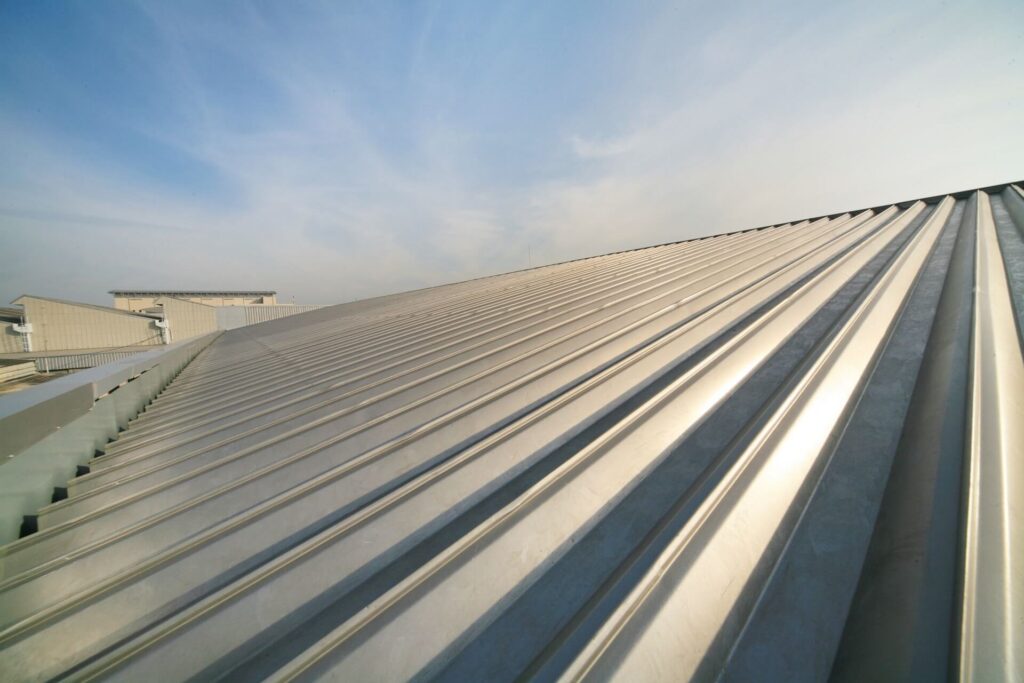 For what metal roof you should go for?
For whatever meets your expectations and ideas the most. There is no such thing as a better option than others when it comes to the structure of the roof and therefore, your construction. And this applies to tapered roofs that will require a lot of work.
For this option, you must know any metal system is amazing for tapered panels and give your roof a stunning design without spending a lot of time and money dealing with the tapered shape. Going back to the main question, we can suggest a few options depending on the style and design you want more than thinking in the structure. For example, if you are looking for a classic look but still have something modern, stone-coated steel gives you this option since it can be covered with the coating and addition you prefer. And according to both of them, the result can vary a lot.
In the case of modern looks, the simple design of a standing seam that is basically vertical panels only can do a lot to achieve the desired result. We can continue mentioning more options, but the truth is that you should take the time to evaluate all of them. New constructions open many doors when it comes to creativity and designs.
You are not limited to follow a specific look since you have probably not done many additions so far. What we are trying to say is that in an old property, you usually have to stick to the design that it already has in order to keep the harmony. But for a brand-new one you can open your mind and let your ideas go since adjusting everything or mixing the styles is easier and possible without compromising your budget and time. That being said, rest assured that metal roofing will not be something you will regret about.
It is one of the best investments you can make for your new property and will provide all the benefits that will cover future needs that might not be slightly present yet. In this project, either if your property is huge or very small, we will help you without second thoughts. Our company is compromised in installing the best metal roof for your new home or business and make sure you enjoy it as much as possible. Keep in mind we will be there for future services that will be required. But this is not something you need to worry about when it comes to metal roofs.
Maintenance is not performed quite often and repairs and minimal thanks to the proper installation we will take care of for you. Just call us and ask for our services.
Time to Replace Your Roof? We Can Help
Considering roofing replacement? When it comes to roofing projects, many homeowners rely on professionals to get the job done. At Florida Metal Roofers of Fort Myers, our specialists stick to all the industry standards when installing metal roofing on both residential and commercial properties. Therefore, you can be sure of getting a sturdy roof on top of your house. As a result, you can get the best services from our company in the following fields;
What Locations do we Serve?
Florida Metal Roofers of Fort Myers is a name you can trust and rely on. Our metal roofing services were limited in Fort Myers, FL when we started. But with time our company has expanded and is now serving over ten locations within Florida.
It shows how reliable we are. Here are some places within Florida, where you can access our world-class metal roofing services: –