What to expect from us?
Fort Myers'
Metal Roofing Installation, Replacement, & Repairs
When you consider the options that involve roofing, you need to open your perspective and evaluate everything that is in your reach. Choosing the roofing system you are going to install or dealing with the one you already have is not simple due to all the work both tasks entail. However, it is a fact that some systems give fewer problems than others and can make your life easier in many ways.
Starting with not having to worry about them for a couple of years due to how durable and long-lasting they are. This is why you should focus on looking for durability and longevity before worrying too much about the aesthetics part of the roof. Besides, we are sure you will be able to find something you like among the options that offer the benefits mentioned previously.
Once you have found different options and systems that can fit what you are looking for, make sure to review the designs and styles. Also, keep in mind how difficult it is to install and how everything takes part in the long-term—with future repairs and maintenance. In Lee County, you can notice many people choosing roofing systems that involve slate, concrete and similar materials. They are popular not only because they look amazing but also because they offer good benefits for the type of climate and structure of any property.
However, they can be expensive and when it comes to durability and longevity, there is one option that can last the double or even more as long as you also take care of it. We are talking about metal roofing and we know you are a bit surprised with this. Metal roofs are considered to be a second or even third option among systems and what you install for your property. But you would not consider them last if you knew all the positive characteristics they have.
Let's start with the one we already mentioned: long-lasting. They can last for over 60 years if you take care of them properly and conduct maintenance every once in a while. Repairs are not that often but if the metal roof was installed properly, you should not have to worry about severe damage to your roof unless it was quite damaged to external sources. Any metal roofing system is considered to be better in quality and durability than any other option in the market. They are not the cheapest ones but nor the most expensive.
Compare to roofs like slate or even clay, you can find very good options in prices that will pay off your investment. And just like any other material and roofing system, you can find options that range from the regular, standard, and premium options. The advantage of going for any of the roofing options is that you can obtain the main benefits and have a large variety of designs and profiles. This means you are not obligated to go for the premium option if you want to get a high-quality roof for your property.
Now, what does it take to have such a system in your business or home? Besides the best materials and a plan that can detail every step that must be taken, you will need assistance and services from metal roofing contractors. Our company Florida Metal Roofers of Fort Myers can provide you with all the services you will need and make sure you have a stunning metal roof installed at the end of the day. Or we can always handle any other need and project you have in your hands if you already own a metal roof or your circumstances require more than a basic installation.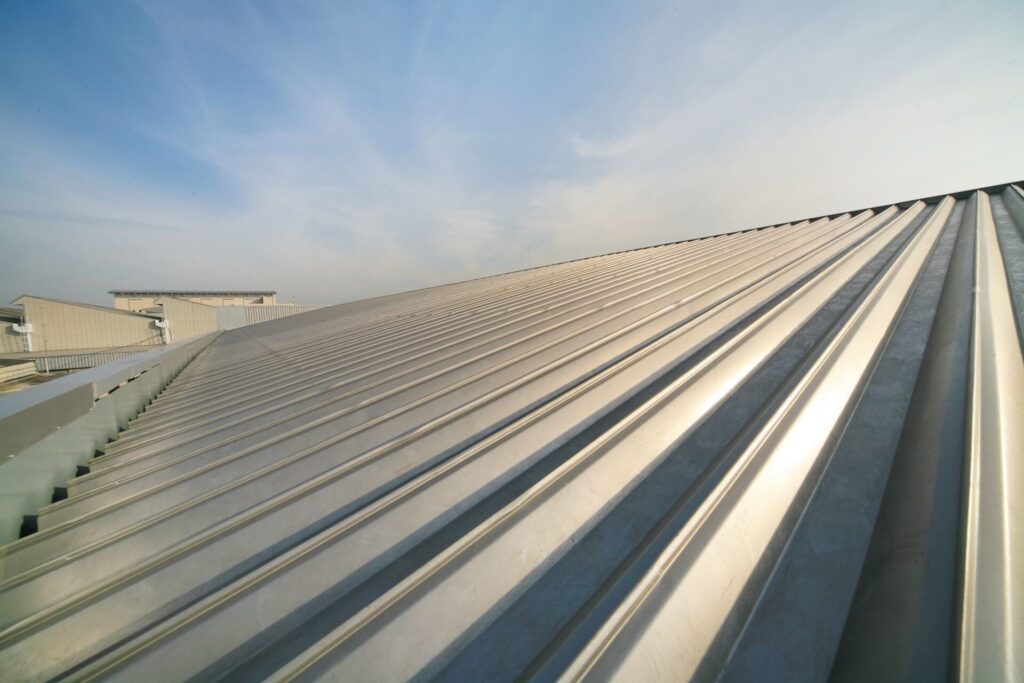 What you need to know about metal roofs
First, we know you are a bit hesitant about choosing metal or any of the four materials available—to be more specific. After all, metal roofs are known for being used in commercial properties like storage and structures that are not really in the public eye nor visited for many. However, their beauty and functionality are things you need to get familiar with, and from there on, you will understand the choice of thousands of people in Lee County.
Besides the benefits we mentioned before, metal roof in any type of presentation comes with a large variety of designs and styles. One of the main reasons you can get creative with them is because you can work the panels and this includes cutting and bending them to obtain specific shapes and designs. You also have options that come in tiles and shingles that provide different looks. Such as designs very similar to clay or concrete tiles and even slate—which is considered the most expensive roofing in the market.
It is all about getting information and trying to compare all the options a metal roof offers you and then go to the rest you have been considering. Now, we cannot forget about how easy it makes your life. Since any metal roof is lightweight, the installation can be done easily and the rest of the services required in the future should not be a problem when the first is done properly.
When going for this and any other service such as repairs, replacements, re-roofing, and specific metal roofing systems, contact us to obtain the best results. Our qualified and experienced team of contractors will handle the task for you and make sure everything is in place. A metal roof is easy to install as long as you also know how to do it.
Honestly, we believe everyone can give it a try but the possibilities of putting everything in the right place and not suffering from future problems due to the installation are very high. Therefore, why would you take the risk?
Our company is here for you and ready to help anyone located in Lee County, and this includes towns and small communities nearby. Just make sure to call, email, or visit us when you feel ready or if you want more information about what you need or want.
Time to Replace Your Roof? We Can Help
Considering roofing replacement? When it comes to roofing projects, many homeowners rely on professionals to get the job done. At Florida Metal Roofers of Fort Myers, our specialists stick to all the industry standards when installing metal roofing on both residential and commercial properties. Therefore, you can be sure of getting a sturdy roof on top of your house. As a result, you can get the best services from our company in the following fields;
What Locations do we Serve?
Florida Metal Roofers of Fort Myers is a name you can trust and rely on. Our metal roofing services were limited in Fort Myers, FL when we started. But with time our company has expanded and is now serving over ten locations within Florida.
It shows how reliable we are. Here are some places within Florida, where you can access our world-class metal roofing services: –