Fort Myers'
Corrugated Metal Roof Contractors & Installers
Choosing among the options available for a roof will take time in order to organize the pros and cons every system has. Therefore, we suggest you never jump for an option before considering others that can be better than the one you have in mind. If you are an owner that is very focused on what you want and there is no other type of roof that will do for you, that is completely fine. But if you are up to find options that can help you to save money, time, and effort and still provide you with the same results or even better, take it slow.
The roofing industry comes with a large variety of options, and when you decide what material you will use things can get a bit easier when it comes to deciding what to choose in the final design and profile. However, this does not mean you will not have some sort of a hard time. When you go for the material in specific, you still have a lot to think about and decide. For example, the specific system you will use such as tiles, shingles, panels, and so on. Then, colors, shapes, coating, and all the extra elements need to be chosen.
Now, if you are not sure about what you want or need in your property, do you mind taking a piece of advice here? Our company Florida Metal Roofers of Fort Myers is specialized in metal roofing systems only, and thanks to our experience and comparisons over the years we can tell you that metal is one of the best options. It provides durability, longevity, and a large variety of profiles and designs.
If you are considering the idea after this or you came here looking for answers, that would make even more sense. Among the options we can suggest that are available in the metal roofing market, a corrugated metal roof is one of the first that comes to our mind. Usually, corrugated metal is popular among commercial owners that want to find something durable and affordable. However, residential owners never considered the possibility of being able to obtain the same without sacrificing aesthetics which is what most people believe about metal roofs.
Why choose a corrugated metal roof
In the market, you will notice metal is something quite large and deep to talk about in the roofing industry. Many options come according to the specific material you are using—not metal precisely but rather aluminum, copper, steel, or zinc.  And all these materials offer a wide range of options according to the design and needs you have in your hands. 
For corrugated, the main reason why we recommend it is because it is one of the most affordable ones and quite easy to install. This saves people time, money, and effort, and there is no need to worry about often repairs or having to perform maintenance periodically. Just like any other roofing system, it takes dedication and care to make sure it lasts, but it is not an option that wants you to do something in pro of its care every month. Now, metal roofs tend to be mistaken as plain and without any type of style or design. 
In the case of corrugated, they have a more dimensional aspect and they are far from plain. Depending on the material you choose for the panels and the corrugated option itself, you can also get very specific profiles. This will take some time to process due to everything involved in going for one of the many metal roofing systems. But if there is something we can assure you is that professionals will be required. 
Corrugated can be installed in very small structures by yourself. We have to be honest about this although we do not tend to encourage DIY ideas when it comes to roofs. However, when you have a bigger project in mind, the best and only option you should have in mind is to find qualified and experienced contractors and roofers. Our company can provide you with them and handle any corrugated metal roof installation. Just make sure to be well-informed and we will also help you to determine the best options and designs for your structure according to your needs and preferences.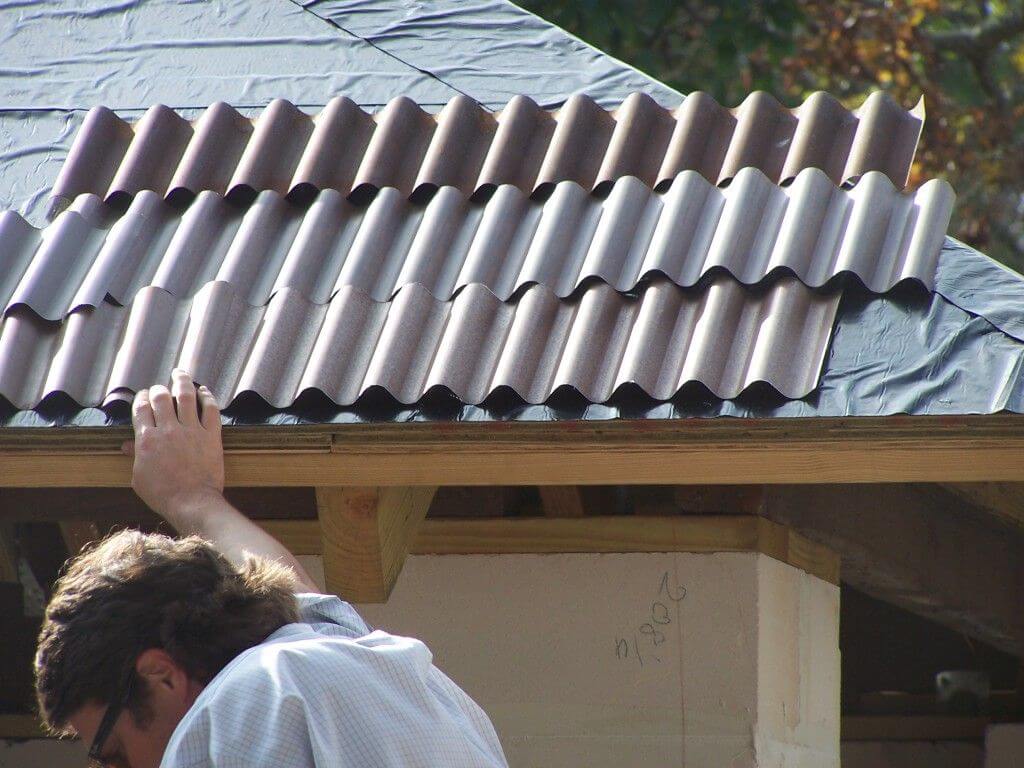 Types of corrugated roof
Among the options you have, aluminum, stainless steel, and copper shingles are the ones you can consider and think about:
Corrugated aluminum roof.
Aluminum is resistant to rust and can provide the same durability and longevity without needing to apply the coating in the future. You can use it regardless of the climate in the city and painting it is totally an option in order to obtain the specific color you want.
It is usually in a gray finish that comes in sheets that are a bit shorter than usual metal panels. However, they are easy to cut and bend in case you are considering them for tapered panels or specific designs. In terms of painting and cost, it is a bit more expensive than the previous one due to the nature of steel, and as for the colors, you might try to paint it but it will be more difficult. Only professionals are recommended to handle the painting in this corrugated roof due to the possibilities of damaging the aesthetics part.
Copper in any presentation is resistant to rust just like aluminum, but the difference between it and steel lies in the extra benefits it comes with. Cracking, eroding, and shrinking are problems you will not have to worry about. And although all the corrugated options can stand any weather—heavy snow and rain as well as wildfires—, copper stands out in this area, which makes it the most expensive option among the three.
There is a lot to consider and still know about. Therefore, if you want more information, do not hesitate to contact us. You can ask all your questions and feel free to hire our services before or after each one of them. We will be here to install, repair, maintain, and handle every corrugated metal roof service you need.
Time to Replace Your Roof? We Can Help
Considering roofing replacement? When it comes to roofing projects, many homeowners rely on professionals to get the job done. At Florida Metal Roofers of Fort Myers, our specialists stick to all the industry standards when installing metal roofing on both residential and commercial properties. Therefore, you can be sure of getting a sturdy roof on top of your house. As a result, you can get the best services from our company in the following fields;
What Locations do we Serve?
Florida Metal Roofers of Fort Myers is a name you can trust and rely on. Our metal roofing services were limited in Fort Myers, FL when we started. But with time our company has expanded and is now serving over ten locations within Florida.
It shows how reliable we are. Here are some places within Florida, where you can access our world-class metal roofing services: –