Fort Myers'
Metal Roof Repair - FREE Inspection & Quote
Is it too hard to deal with metal roofs? This is a question we get quite often in our company. It is only natural to think about how difficult it will be after installing your roof, to deal with it in order to keep its durability and longevity. Every roof requires some maintenance and repairs over the years or they will not last the half of the time they promise with the right materials and installation. Therefore, keep in mind this whenever you go out there and starting choosing another roofing system for your property.
In the case of metal roofs, repairs are not usually required except for very small details such as holes and some fasteners out of place. After all, it is common to find them almost falling from their place and damaging the panels or shingles a bit. Now, if you are noticing that your fasteners are starting to present rust or corrosion, the problem is not the roof itself but rather the poor choice of fasteners. Here is when the information about repairs truly starts: you need to choose the same type of material for your fasteners.
In short, if you install an aluminum roof, you need to go for the same type of nails and anything used to place the panels or shingles. Otherwise, there will be a chemical reaction one hundred percent. This only applies for nails, fasteners, and some click locks used depending on the metal roofing system installed. In the case of other problems and repairs, you can face rust and corrosion as something common in roofs that have not been maintained properly. And more severe issues such as gutter in the stucco or walls in general.
Although most of the serious problems come from the results of a bad installation that was handled for an unqualified person. It is hard to know by yourself when something is incorrectly installed. But in the case of the gutter and some filtrations, you can avoid them before they take place by looking at the joint between the roof and walls inside your property.
If there is some space left, this is going to cause problems in the future and can be sooner than later. Even when repairs will not take place quite often unless your roof is exposed to a lot of external damage and the climate and how it affects it—although metal roofs work amazingly with any climate. The list of repairs could be large when it comes to possible options. For any repair you have in mind, remember that dealing with roofing systems in general needs to be done carefully and with the right expertise and equipment. Therefore, make sure to leave all your repairs to our professionals at Florida Metal Roofers of Fort Myers.
You can count on us for any level of repair that is in either zinc, steel, copper, or aluminum roof of your choice. Not all repairs, even when the problem is the same, are handled in the same way in each metal roof material. Some require more attention while others are a bit easier to handle.
Keep this in mind whenever you think and consider the idea of going for the DIY option. Now, there are a few repairs that can be handled from inside the property. Sometimes, property owners are able to handle those if the right materials and tools are acquired. Everything depends on how serious it looks and actually is.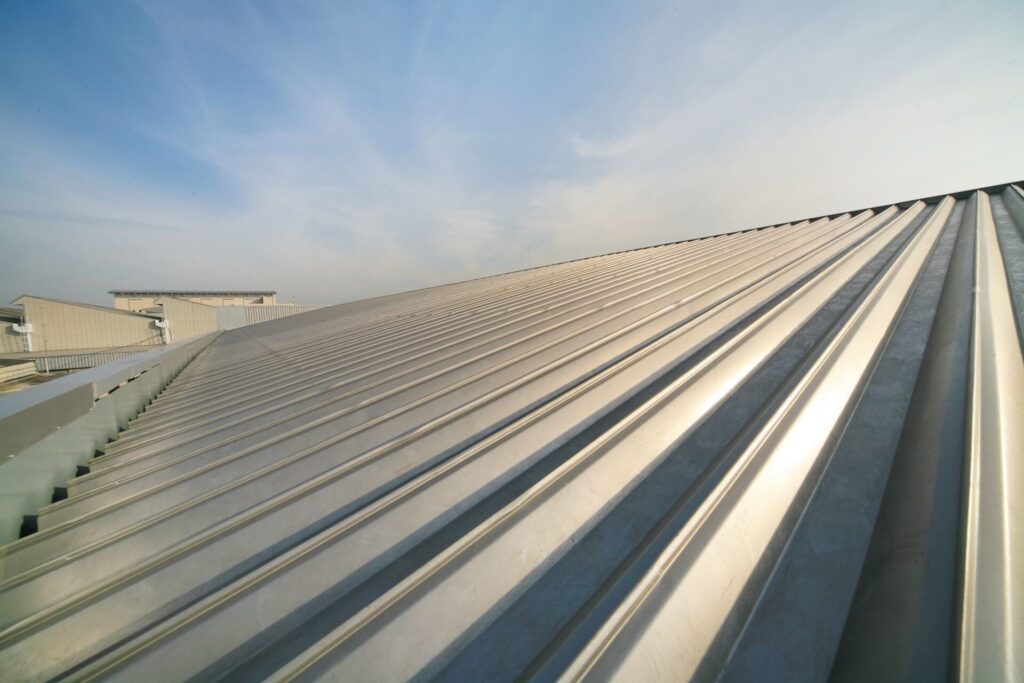 How do you know you need to repair your roof?
Leaks, filtrations, holes, and many other problems are quite obvious and present to the eye. However, problems such as fastener and nails just like we mentioned before, are not easy to notice when most of those are placed in a very specific part of the roof. Most people notice them when there is some maintenance taking place and, in those cases, the professionals should be able to handle it or, at least, inform it before starting to replace the fasteners.
In our case, we usually prefer to conduct and inspection when the client is not sure about the real problem. This allows us to have a clear picture of not only the problem you think you have and there might be but also of the entire roof. Our contractors will be able to be more careful, work around the real needs of the roof, and make sure everything is in place with the information acquired from the inspection.
Keep in mind that our company is quite professional and methodic in what it does. This means we will not take a project without being sure it is what you need. If you believe you have to replace some panels or repair them, we will let you know if that is true or not and provide better solutions if possible, for you to save money and time. There is a lot involved in the task of repairs and everything needs proper attention.
One of the most common mistakes from metal roof owners is that they believe it is easy to deal with this system in particular. Yes, it may be easier compared to other roofing options but that does not mean you can do it alone without proper training and equipment. Therefore, instead of going for the option of doing it yourself—which could easily make the problem worse—, contact us and we will handle everything for you.
Our contractors, experts, and the entire staff at our company can help you with every slightest problem in your hands. All it takes if for you to go and take the first step. After all, we cannot reach out to you first since it will require a call, email, or visit on your behalf. However, whenever you decide to do it, rest assured we will be here waiting for you, and our team will assist you in any problem right away. Keep in mind we are always available and ready to help you with some emergencies if it applies.
Time to Replace Your Roof? We Can Help
Considering roofing replacement? When it comes to roofing projects, many homeowners rely on professionals to get the job done. At Florida Metal Roofers of Fort Myers, our specialists stick to all the industry standards when installing metal roofing on both residential and commercial properties. Therefore, you can be sure of getting a sturdy roof on top of your house. As a result, you can get the best services from our company in the following fields;
What Locations do we Serve?
Florida Metal Roofers of Fort Myers is a name you can trust and rely on. Our metal roofing services were limited in Fort Myers, FL when we started. But with time our company has expanded and is now serving over ten locations within Florida.
It shows how reliable we are. Here are some places within Florida, where you can access our world-class metal roofing services: –