Fort Myers'
Metal Tile Roof - Best Roofing Contractors
When you are considering a specific design for your roof, you need to be well informed with all the options available in it alone. For example, did you know that tiles come in different variations? However, most people are used to go for clay and concrete ones due to how common they are. Both of those options are not bad at all; they have their pros and cons just like any other roofing system but since they are not the only ones, you should consider things a bit longer.
Now, before discussing more tiles and the options available, what are the first aspects you look at in a roofing system? Most people would reply to how it looks and completely give up the elements of durability and longevity or, at least, they do not give them that much relevance. Therefore, when you are looking at the options always focus on how durable and long-lasting the roof is or you might regret your decision sooner than later.
For the tiles roof, the problem with the previous materials and options is that they are very prone to cracks and splits. Also, installing them is quite difficult due to the materials themselves and how dangerous it can be when only one of the tiles falls after some time. There is a lot to consider when going for this option since tiles are not as fixed as panels or even shingles. But if you are looking for a safe option that can also offer all the aspects we mentioned before, metal tiles can be your life saviors. 
Metal tiles are incredible for any type of structure and therefore, property. Every metal roofing system is lightweight and easy to install due to this, and tiles are not the exception. There is a bunch of reasons why you should give them at least a try or consider them when going for tile roofs. Now, what are the main reasons behind preferring them? 
It offers durability and longevity. Compared to other roofs, metal tiles can last for over 60 years without having to perform maintenance every year or quite often. 

You have a large variety of designs and profiles that help you to get different styles and results. 

They are easy to replace in case it is necessary or after its life-cycle has come to an end. 

Do not worry about the colors, there are many to choose from. 

You can get metal tiles in 4 different materials: zinc, aluminum, copper, and steel. 

Any of the materials offers the previous benefits and will work well with any climate. 

You do not need to worry about repairs that take a lot of time or money if there is a proper installation of the tiles. 
Keep in mind that all these reasons come with not only the need of using the best materials but also the right hands. Metal tiles are easy to install but that does not mean it can be done for anyone who climbs to the top of the property. Therefore, make sure to contact us at Florida Metal Roofers of Fort Myers.
Our company provides this service among the most requested ones in Lee County, which means we are quite familiar with the use of tiles in the metal roofing systems. Both commercial and residential properties can go for the option according to the design and final result they want to get. Now, it is important to know that your property will be ready in no time as long as you make the decisions and choices fast. But the best way to guarantee the roof you want is by taking the time to choose the colors, specific tiles, and the materials we are going to use for the installation. 
That being said, what about future services? Repairs, maintenance, and almost projects or needs will be covered for our professionals whenever they are needed.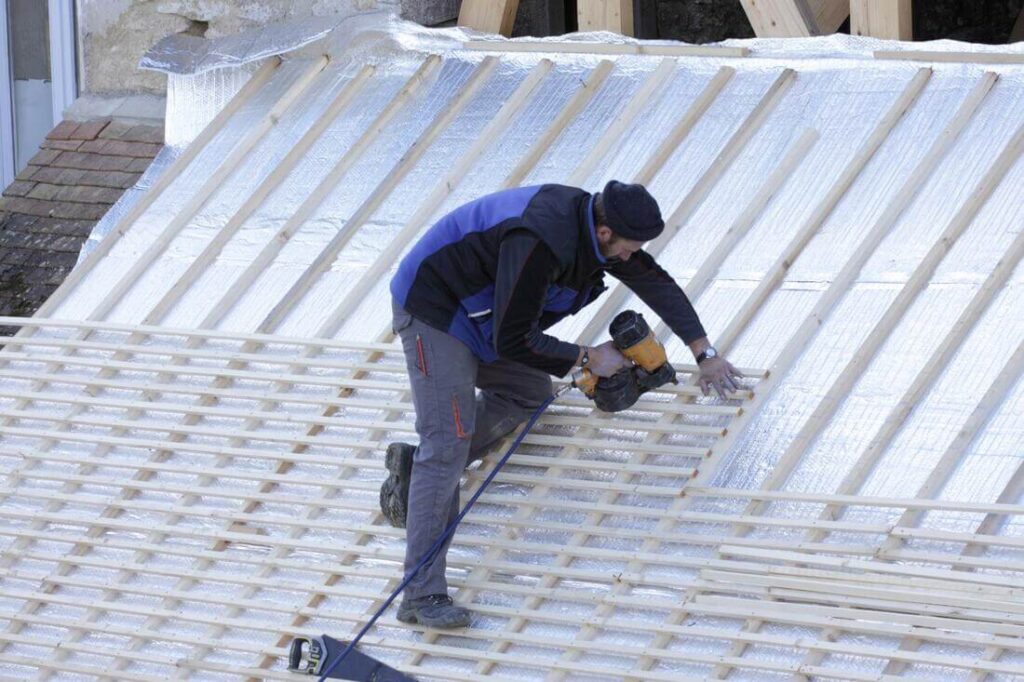 How do metal tiles look when installed?
Very much like any other tile design. One thing about metal roofs is that they can imitate several roofing systems without problems. This is thanks to the coatings and layers of thick additions like the stone that can help to obtain specific results.
In the case of the tiles, you usually expect a shiny result that differs from clay or concrete. However, applying a specific coating can help to get the same finish and make it look like any other material, even slate. As for the texture, you can use different types and layers to obtain the desired result without spending a fortune on other options. To make it simple, metal tiles are not any different from other roofing systems of the same type.
Now, they are indeed better thanks to the benefits and qualities they offer and how low-cost they are in order for the owners to save money in the long-term. Yes, metal tiles can be a bit more expensive than asphalt or concrete, but they are completely worth it when you consider the benefits you will get and the problems you are going to avoid in the future. Just make sure to leave the installation in the best hands you can find.
In this way, you are not only guaranteed to prevent severe damage in the future that is usually caused due to bad procedures. Also, you will get the best materials for the project. Our professionals and contractors will take on the task of delivering the best for you and your property. We work with the options of either providing everything—materials and the hands that will work with it—or just provide the contractors who will handle the repairs, installation of the tiles, and so on.
We encourage you to obtain the materials from us as well since we work with the best options in the market and it will save you time and money in looking and acquiring for others that are not too amazing. You cannot go wrong with metal tiles for any design you want, and durability and longevity just come along with it. Therefore, do not hesitate to install them.
Time to Replace Your Roof? We Can Help
Considering roofing replacement? When it comes to roofing projects, many homeowners rely on professionals to get the job done. At Florida Metal Roofers of Fort Myers, our specialists stick to all the industry standards when installing metal roofing on both residential and commercial properties. Therefore, you can be sure of getting a sturdy roof on top of your house. As a result, you can get the best services from our company in the following fields;
What Locations do we Serve?
Florida Metal Roofers of Fort Myers is a name you can trust and rely on. Our metal roofing services were limited in Fort Myers, FL when we started. But with time our company has expanded and is now serving over ten locations within Florida.
It shows how reliable we are. Here are some places within Florida, where you can access our world-class metal roofing services: –