Fort Myers'
Tapered Panels Metal Roof Installation Group
The real challenge in the roofing field lies in obtaining specific results no matter how difficult it is to handle the surface. To be more specific, people are used to dealing with vertical and flat roofs that do not give many problems in the aspect of installing the roofing system. After all, most options come in panels and they tend to be easy to handle and cutting with the right machine.
Basically, you only have to place and fix them in their place. However, what happens when the surface and structure is not that simple? Roofing systems can be easy in some situations, but that does not mean there is not certain science behind how you can achieve amazing results. When the surface will not give you an easy entrance to do the installation or any other project, you will need to go for options that can make the task easier and find the right steps to take.
If you are dealing with a tapered roof or something similar, here is our recommendation: metal roofs are the best option for you. You see, one of the benefits of going for metal is that you can cut and bend the panels however you like. This gives you freedom in order to obtain specific shapes, designs, and styles that are usually difficult to obtain with other materials. Such as slate, clay, and concrete, unless you ask for a customized design which can cost a fortune, and it is not necessary when you have metal roofing as an option.
We know you are worried about going for metal due to its nature and how it tends to look: shiny and sometimes, we have to admit that even plain. However, you can do whatever you want with it and this not only applies at the moment of cutting and bending. You can go for different profiles, colors, and designs. All it takes is expertise and the right equipment and tools.
Our company Florida Metal Roofers of Fort Myers can help you with this project, and we actually love taking the challenge of tapered panels. It is not easy nor simple to obtain the specific design and shape in order for it to fit the structure and tapered roof. It takes a lot of dedication to knowing how you are going to cut it in order to not waste material either. Yes, there is a lot to consider and think about but fortunately, our contractors and experts know how to do it.
We have been working in the industry for several years, and tapered panels are part of our most requested services. People in commercial properties noticed they can obtain amazing results with metal roofs not only for vertical panels or tiles and shingles but also when going for bolder designs and options. Metal roofing systems have been popular in commercial properties for a while, and people actually consider the entire option as 'commercial roofing'. However, homeowners and residential owners overall are noticing the benefits of going for it.
Starting with the fact of being able to save money and still get durability and longevity among the benefits. We are telling you this before continuing with the tapered panels for your roof so you can have the basic and essential knowledge of metal roofs.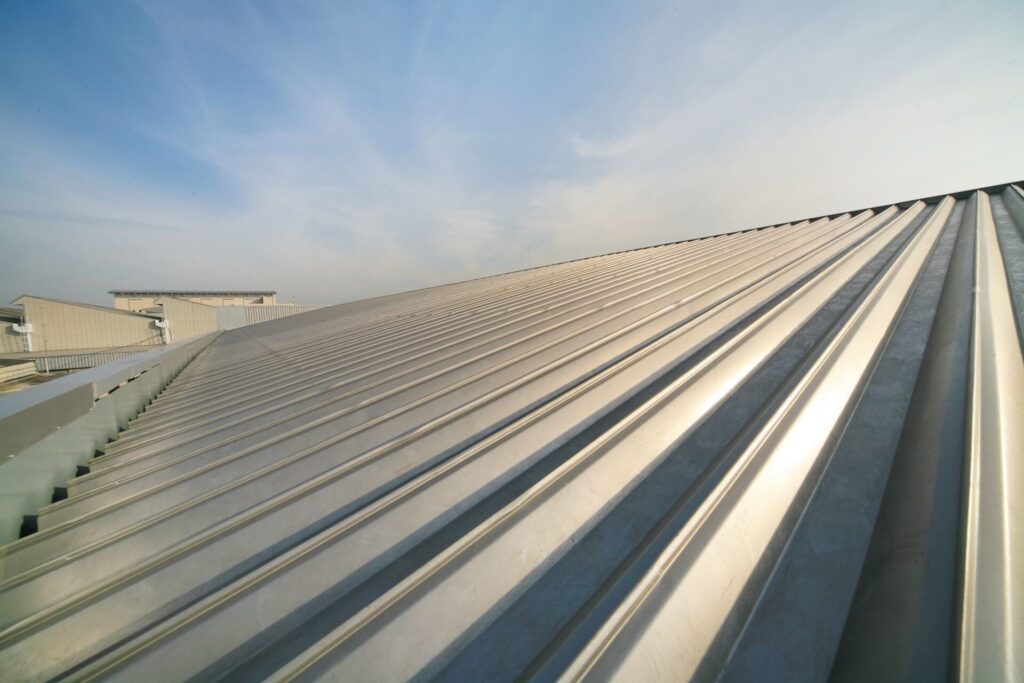 What results can you get with tapered panels made of the materials available for metal roofs?
When you choose to go for a metal roof regardless of the specific system you need, you must keep in mind the options in materials. Aluminum, steel, copper, and zinc are the materials you can choose your panels to be made of. In the case of working with tapered roofs, the best option is to go for the lightest materials of all. However, it is not completely necessary since all panels are known for being lightweight and easy to work with. Therefore, what material would we recommend?
Steel and aluminum are among the favorites due to all the options they offer in designs and aesthetics. Steel itself comes in 3 different variations that give different finishes. As for aluminum, it is quite amazing for the climate in Lee County and all of Florida. Now, if you prefer other options after researching and learning more about zinc and copper—in this case—, you can always choose whatever you like the most. Moving onto the results, the process of obtaining the desired panels consists of cutting with a mobile machine.
Most of the time, cutters and professionals use a fixed one in order to get a clean cut without any issues. However, this is not possible when you want to obtain a very specific cut that will go on a tapered roof. You need to move the panel or piece and make sure it is getting the exact same form every time. It takes a lot of work but the results are always worth it. You can expect stunning roofs when going for metal and we assure you that thanks to our professionals, you will be able to get the best out there.
Tapered panels and standing seam
Standing seam is one of the most common options when going for modern designs and especially in residential properties. This alone is a metal roofing system available. However, what is special about it is how the panels are designed.
If you are going for a modern look in your property, you can definitely go for this option but instead of getting the panels installed, as usual, you can just ask us to cut and bend them accordingly to the project. Roll-forming standing seam is a pleasure for us due to how easy it is to deal with this one in specific. But mostly, because we have done it many times and we never get tired of how stunning the final results look like.
You cannot get disappointed with this choice, but if you still have other designs in mind such as a traditional one, let us know and we will work with you in order to determine what option is better for your tapered panels.
Time to Replace Your Roof? We Can Help
Considering roofing replacement? When it comes to roofing projects, many homeowners rely on professionals to get the job done. At Florida Metal Roofers of Fort Myers, our specialists stick to all the industry standards when installing metal roofing on both residential and commercial properties. Therefore, you can be sure of getting a sturdy roof on top of your house. As a result, you can get the best services from our company in the following fields;
What Locations do we Serve?
Florida Metal Roofers of Fort Myers is a name you can trust and rely on. Our metal roofing services were limited in Fort Myers, FL when we started. But with time our company has expanded and is now serving over ten locations within Florida.
It shows how reliable we are. Here are some places within Florida, where you can access our world-class metal roofing services: –