What to expect from us?
Top Metal Roofing
Contractors & Services in Fort Myers FL
When you are looking for contractors and professionals in a specific field, that means you have an idea of what you want and need. However, when it comes to the metal roofing industry, you can have any doubts about what you are looking for. Many companies and professionals in the field do not help with all the questions you have in mind. After all, they are too focused on making you hire their services instead of letting you know why you need them or one in specific.
In our case, we work in a different way. Our company Florida Metal Roofers of Fort Myers likes to be more than the professionals who will go to your property and handle the hard work. Before installing, repairing, or doing anything to your roof or starting the project, we will have some conversations with you that will be quite informative. Our contractors will help you to come up with a decision that benefits you in every possible way and let you know why some metal roofing systems are better than others. Knowing this, you can say that one of our services consists of advising and providing guidance although you will not read it directly on our website or the information we provide.
That being said, our list of services is quite large in order to cover all your needs and projects. This means you can find what you are looking for and count on us for any idea you have in mind. Following the first idea—about not knowing what you need or want—, you can get information about what our services are about right below. In this way, you will make well-informed decisions and know what you are getting into with us. Something we can guarantee is that whatever you choose and need, always expect the best results and services from us.
Installations, repairs, and replacements
Clients—or potential ones—always contact us asking for installations more than anything else. This is quite straightforward and you already know you need one for two specific reasons: you are trying to install it in a new property or decided to get rid of the old system you had and go for metal roofs. Whatever it is, you can determine that installation is required and before any other services such as repairs or replacements, you always need the first one to take place. Therefore, you can already tell our most requested service is the installation of any metal roofing system. 
We are not classifying the metal roofs we install according to the material and system in specific. And even if we do, the result will still be the same: installation is at the top. But continuing with the rest, repairs and replacements are part of what we can do. Although they are not that requested—which is a good sign—, our contractors know how to deal with the problems and aspects involved with them. 
The repair service entails many situations since the number of problems a metal roof can give is large. However, repairs are not needed too often, which is why you should not worry about this. But if you are having difficulties with leaks, holes, rust, corrosion, or some fasteners out of place, do not hesitate to let us know. As for replacements, this is actually the less requested service but we still offer it just like any metal roofing company should do. 
In the metal roofing industry, other options can save you the task of going for a replacement, which is probably the most difficult service to deal with. We will get to those options in a bit but focusing on replacing metal roofs, for now, you must know we are up to this task if it is 100% needed or if you prefer it over any other option.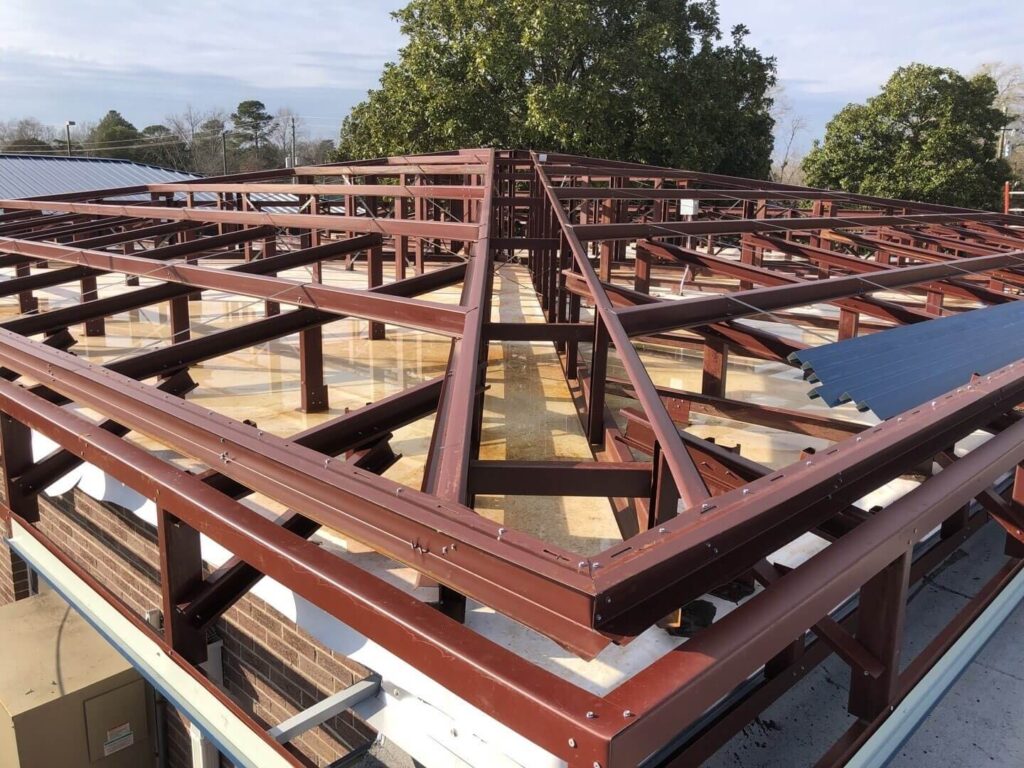 Re-roofing or retrofitting
Those are the options we were trying to mention before that can help you with the replacement one. Both of them consist of installing new elements that can help you to prolong the durability and longevity of the metal roof no matter what system in specific it is.
You usually install new panels or roof huggers that work as support. Usually, both options are considered the same and if you ask us, they are with only a few differences.
Therefore, when you are going for any of them, feel free to ask for re-roofing and retrofitting as if they were the same.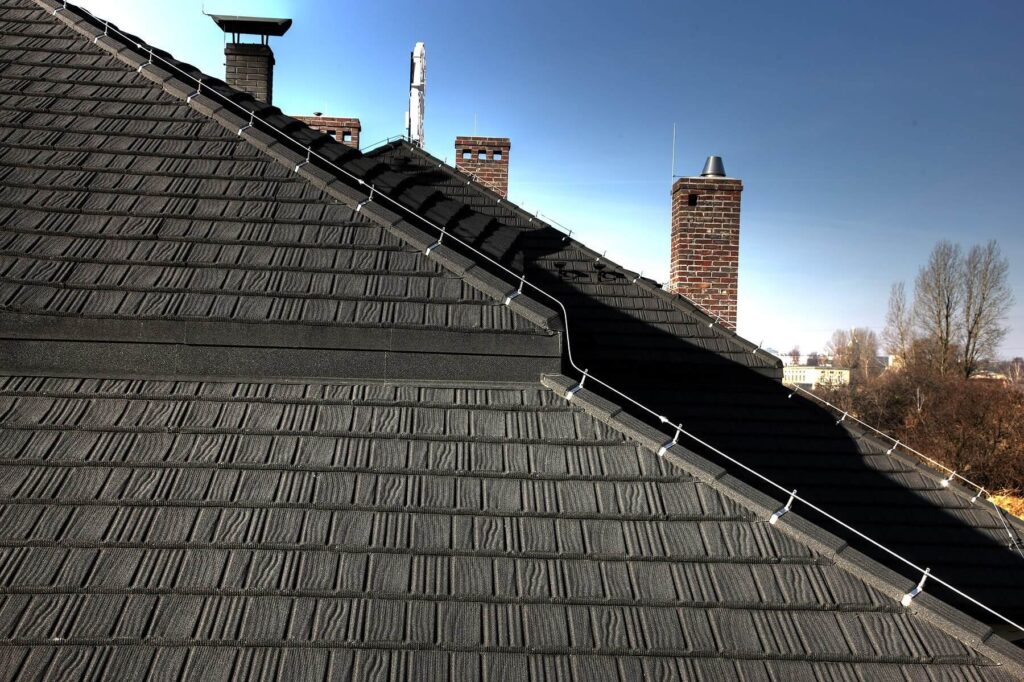 Metal tiles, shingles, and panels
For metal roofing, the systems consist of the materials you choose and the design of the roof you are installing. The design usually refers to the shape of the parts you will install in your structure. First, you have 4 different options for your roof: aluminum, copper, steel, and zinc.
As for the design, tiles and shingles are among the most requested ones. However, the most common presentation for metal roofs consists of large panels that can be cut and bent according to the shape you want to obtain. When we take all this to the services we offer, we can summarize everything in those options:
Metal tile roof.
Metal shingle roof.
Tapered panels.
Also, we want to take the time here to point out two important services available in our company: standing seam and stone-coated roofs. Both are quite requested and have a lot to do with what we were discussing before—the materials and specific design you want.
Having mentioned all this, we still have extra services available that consist of more specific projects you have in mind. Such as commercial or residential metal roofing as well as the option to install them in new constructions.
By this point, all that is left to say is to remind you that our company is not focused on only a few services. And that if you want our experienced and qualified contractors to work in something unique, you can contact us anytime and let us know your ideas.
Feel free to do relay on us for your needs as well.
Time to Replace Your Roof? We Can Help
Considering roofing replacement? When it comes to roofing projects, many homeowners rely on professionals to get the job done. At Florida Metal Roofers of Fort Myers, our specialists stick to all the industry standards when installing metal roofing on both residential and commercial properties. Therefore, you can be sure of getting a sturdy roof on top of your house. As a result, you can get the best services from our company in the following fields;
What Locations do we Serve?
Florida Metal Roofers of Fort Myers is a name you can trust and rely on. Our metal roofing services were limited in Fort Myers, FL when we started. But with time our company has expanded and is now serving over ten locations within Florida.
It shows how reliable we are. Here are some places within Florida, where you can access our world-class metal roofing services: –