Fort Myers'
Standing Seam Metal Roof Installation Team
What do you know about metal roofs? We are sure that most of the information you have lies in the commercial properties you have seen with them installed. And most of the time, not too many looked quite attractive to consider the idea of doing the same to your business or home, right? Well, this is what makes people lose the opportunity of having amazing options for their roofs: because they focus a lot on what they see and never consider if there are other possibilities.
Metal roofs offer one of the largest varieties in the market when it comes to profiles, designs, and the systems themselves. And you would be surprised by how much you can get with something so simple and basic, at least on the surface and when you first look at it. At Florida Metal Roofers of Fort Myers, we have been helping property owners for a very long time in informing and guiding them during the roofing system options that are available in the market. Of course, we only focus on metal roofs and all the variety that comes with them. That being said, you probably have many questions right now and we are ready to answer each one of them.
First, what makes metal roofs so amazing? The durability and longevity of roofs are what you should focus on the most when looking for one. When you read about how long metal roofs can last and their benefits, you will notice why commercial owners go for it without a doubt. They can last for over 50 years without having to perform maintenance periodically, and repairs are not too common to be required.
The cost is quite low when you think about the long-term benefits and even when you might find options such as asphalt, you will notice that at least, this one, can last half of the years metal roofing can. But why can it last for so long? You must know that metal roofs are not specifically made of 'metal' but rather different options: aluminum, copper, steel, and zinc.
All these four materials have amazing benefits that prevent holes, cracks, and splits which are very common with other materials such as clay and asphalt. Of course, that does not mean they are indestructible. However, this alone saves you a lot of time, money, and effort in every possible way. As for the designs and styles, you can have what you want depending on the system you need and want.
In Lee County and most cities near it, people prefer modern looks nowadays—although you can still see many properties with traditional designs. This is why a standing seam metal roof is probably the most requested roofing system in this market right now. And we are happy to tell you that if you are looking for something that offers a modern look, a vertical roof or panel, this is the best option you can go for. And in our company, we can help you to have it without any problems and details.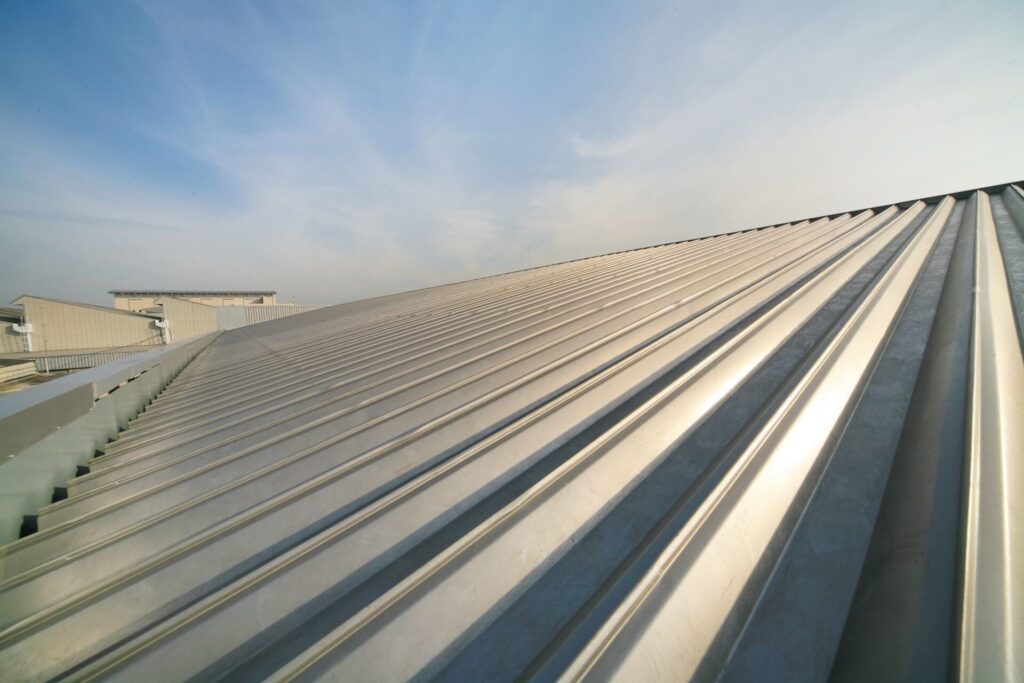 What is so great about standing seam?
Besides the previous benefits, you can get different results depending on the final design you want to obtain. Unlike other metal roofs and options, you can paint it with different colors and add some texture if wanted. However, the style of this metal roof indeed lies in how simple it looks and yet so sophisticated. You can have a look at several pictures on our website and the Internet, and we assure you will want to maybe go for specific colors but about textures or some additions, you will feel like ruining the roof.
Believe it or not, they have prominent visual features that make people go for them when they start looking at some examples outside the typical commercial properties that do not really take care of them. Now, is it really a good option for residential properties? It is all about being creative and playing with the colors. Standing seam is known as commercial roofing due to how popular it is among businesses. But this has been changing since homeowners noticed the results they can get.
However, if you are thinking about going for it for a commercial structure, you will love it the most in restaurants and similar businesses. Before moving onto another important fact, we want to point out the importance of installing it properly. Not all standing seam metal roofs are installed in the same way. There are 3 different ways to handle it depending on if you use fasteners, specific nails, or click locks. This is a bit of too much information but the one you use at the end will also determine the finishing you obtain in the edges and parts where the panels join.
As professionals in this field, we will tell you something: there is not a bad option when it comes to these three elements. It all depends on what you want and how you want us to handle the installation and repairs in some cases. We are aware that most clients do not have a clear idea of this, which is why we will make a suggestion or be specific about each option's pros and cons. It is not that relevant when the contractors you are hiring are professionals and experienced.
Therefore, whatever you choose, rest assured we will handle it as the qualified experts we are. Now, what is the next move to own your standing seam roof? You only need to contact us. Besides dealing with the hard work of installing, repairing, or re-roofing in the future, we will make sure to provide the best metal options. There are many brands and options in the quality of the panels you acquire, and we only work with the best ones in order to have everything it takes to achieve amazing results: high-quality materials and the best hands in the state. Count on us for this project and leave the rest to our contractors.
Time to Replace Your Roof? We Can Help
Considering roofing replacement? When it comes to roofing projects, many homeowners rely on professionals to get the job done. At Florida Metal Roofers of Fort Myers, our specialists stick to all the industry standards when installing metal roofing on both residential and commercial properties. Therefore, you can be sure of getting a sturdy roof on top of your house. As a result, you can get the best services from our company in the following fields;
What Locations do we Serve?
Florida Metal Roofers of Fort Myers is a name you can trust and rely on. Our metal roofing services were limited in Fort Myers, FL when we started. But with time our company has expanded and is now serving over ten locations within Florida.
It shows how reliable we are. Here are some places within Florida, where you can access our world-class metal roofing services: –